_Art'Loft, Lee-Bauwens Gallery is pleased to invite to
the opening of Variations.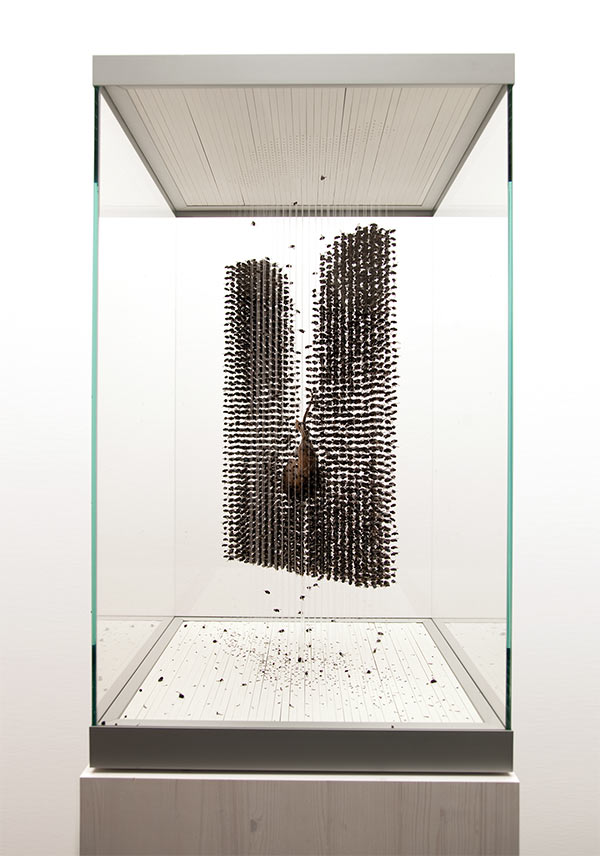 Claire Morgan, Falling Down
Rat (taxidermy), Bluebottles, nylon, glass, 88,4 x 51,6 x 51,6 cm, 2014
© Claire Morgan Studio, Courtesy Galerie Karsten Greve Paris, Cologne, St Moritz
_ABOUT THE EXHIBITION
The representation of movement has often been a concern for artists until the appearance of cinema. Before the movement could only have been suggested in painting, sculpture, photography following general principles such as symmetry generates a static impression unlike asymmetry that arouses tension and dynamism.

In this exhibition, six artists invite us to discover their variations of movements, suggested or real, to return to the heart of their work to discover their creative process with works that sometimes go beyond the wall space where poetry, thought, spirituality, humor are not absent.

"The only stable thing, it's the movement, everywhere and always"
Jean Tinguely

_LUCILE BERTRAND (France, b. 1960)
Between lightness and heaviness, between flight and falling, Lucile Bertrand's work evokes immaterial elements such as wind and clouds, but also the fragility of life and absence in more dramatic occurrences. She has a preference for poor materials such as feathers, particles of dust, fabric, or hair. Soft and hard materials are regularly put in contrast to emphasize some fragility or increase the sense of danger. Drawing constitutes an important part of Lucile's body of work. She may use graphite or color pencil, as well as watercolor or gouache.
_MARTIN LAURENT — LO (France, b. 1955)
The gravity-defying bamboo sculptures by Laurent Martin "Lo" swing in the air, drawing curves of harmony like the gracious strokes of Chinese calligraphy. These fragile harmony is achieved through opposites: flexibility and strength, fullness and void, light and shadow, movement and quietness. Bamboo gives it its high spiritual, mental, poetic and philosophical essence. It's related to life and humanity.
_CLAIRE MORGAN (Northern Ireland, b. 1980)
Claire Morgan's fragile hanging installations reflect her interest in natural processes and organic materials. In her works, the young artist (b. 1980 in Belfast, Northern Ireland) engages with the elemental conditions of man in his habitat and reveals the impossibility of grasping the complexity of life and death: "Exploring the physicality of animals, death, and illusions of permanence in the work is my way of trying to come to terms with these things myself." Elegance and beauty, but also senselessness and horror, are present in her installations and drawings. Simultaneously poetic and vexing, they express the ambivalence of life.
_ANDRÉ STEMPFEL (France, b. 1930)
Who said that geometry doesn't rhyme with humour ? The volume is slipping from a pedestal, a yellow monochrome that rolls up and detaches itself from the wall. As a matter of fact, André Stempfel is dragging us into chaotic stories, where the elements rebel themselves, and challenge each other where nothing stays in place, even the paper is doing mad ! Minimal ? Yes indeed, his yellow colour so called yellow Senegalese is everywhere. Geometric ? Also, in the choice of his forms. Sensual and funny, this work reserves more than one surprise for the visitor.
_PLAY VAKKI (South Korea, b. 1980)
In an approach playful and visual, Vakki is an artist who explores various media including graphic design, kinetic installation, video and interactive media. She geometrically interprets the process of moving and creating objects in a given orbit and questions the cycle of existence through kinetic work with graphics and mobility.
_ YUN SUNGFEEL (South Korea, b. 1977)
Yun Sungfeel's sculptures address the themes of balance and harmony at the scale of the universe. They reveal the constant flows of systems, including those of human existence. The relationship between art, spirituality and science is the creative idea pursued by the artist through his work.