02 : NEWS CONTENT
_CHUN KWANG YOUNG PORTRAIT IN ATELIERS D'ART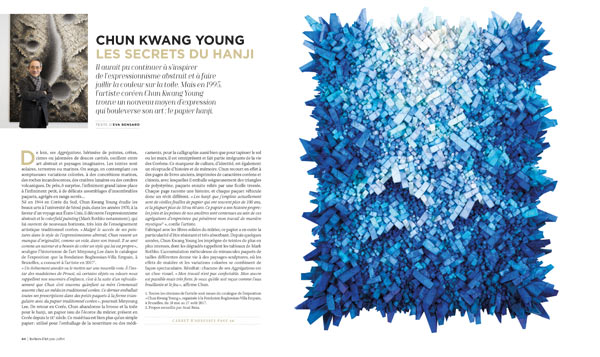 Chun Kwang Young was the subject of a nice portrait in Atelier d'Art Magazine.
Here's a brief extract of the article :
"De loin, ses Aggrégations, hérissées de pointes, crêtes, cimes ou jalonnées de douces cavités, oscillent entre art abstrait et paysages imaginaires. Les teintes sont solaires, terrestres ou marines. On songe, en contemplant ces somptueuses variations colorées, à des concrétions marines, des roches incandescentes, des cratères lunaires ou des cendres volcaniques. De près, ô surprise, l'in niment grand laisse place à l'in niment petit, à de délicats assemblages d'innombrables paquets, agrégés en rangs serrés..."
Eva Bensard — Ateliers d'Art n°135
Juin-Juillet 2018
Read the full article
HERE