02 : NEWS CONTENT
_CHUN KWANG YOUNG & KIM JOON AT VENICE BIENNALE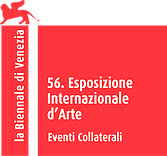 Art'loft is proud to announce you the presence of two of our artists at the Venice Biennale. Chun Kwang Young & Kim Joon will be featured in the
Frontiers Reimagined
exhibition from May 9th to November 22th 2015. Here's a word about the exhibition :
The phenomenon of globalization, where cultures are colliding and melding as never before, offers rich and complex sources of inspiration for artists. Frontiers Reimagined examines the results of these cultural entanglements through the work of forty-four painters, sculptors, photographers and installation artists who are exploring the notion of cultural boundaries. These emerging and established artists—who come from a vast geographical landscape stretching from the West to Asia to Africa—share a truly global perspective, both in their physical existence, living and working between cultures, and their artistic endeavors. Each demonstrates the intellectual and aesthetic richness that emerges when artists engage in intercultural dialogue.
Frontiers Reimagined, a Collateral Event of the 56th International Art Exhibition of la Biennale di Venezia, has been granted the patronage of the esteemed Italian Ministry of Culture. It is being mounted in partnership with the Venetian state museum authority, the Soprintendenza speciale per il patrimonio storico, artistico ed etnoantropologico e per il polo museale della città di Venezia e dei comuni della Gronda lagunare.